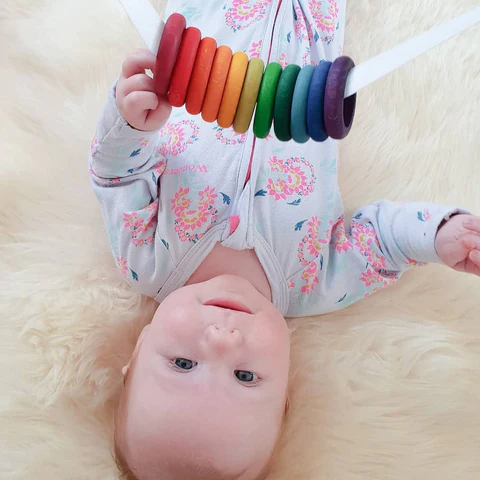 Wondering where to start with an open ended toy collection when your baby is young but also want the pieces to grow with them?
Here I've written a list of the products we recommend starting with. Month by month I've popped a toy suggestion along with some suggestions of what you could do with them as they grow.
Also see our blog Open Ended Toys for Babies through to Big Kids.
Newborn - Two Little Ducklings High Contrast Flash Cards
Flashcards are incredibly versatile for a child's learning! ⁠
⁠High contrast flash cards are popular as a first set ⁠for newborn babies as the contrast between the black and white are very stimulating for babies.
⁠The colours help hold their attention, encouraging their visual and physical development from wiggling, kicking and waving their arms.
⁠As they grow you can use them like a book talking about what is on each card in detail.
Photo by @kayleenmay
1 Month Old - Sarah's Silks Playsilks
The soft texture of the Sarah's Silks are a wonderful addition to baby play (under supervision as silks can cause a strangulation risk for children under 3 years). They can be hung from their play gym for them to wave and bat their arms and can be used with you as a game of peek a boo.
You can also tie them to the Grapat Large Hoop as a grasper/teething toy.
2 Months Old - Grimm's Grasper Beads
Grasper Beads are perfect for babies learning to grasp. They can also be used when they are older as a calm down toy as the beads spin around.
3 Months - Grimm's Rolling Wheel
The Grimm's Mini and Large Rolling Wheels are great for tummy time as they begin to grasp and reach for toys. The balls and bells inside makes a beautiful sound. For 3 month olds I'd recommend the small as it could also be hung from a playgym but the large is better for children learning to crawl when they are a bit older.
4 Months - Grapat Rings
Although these aren't recommended until 1 they are fine to be used under supervision. You can tie them to a ribbon and hang them from the play gym for them to bat or you can also tie them in a ribbon or playsilk to use as a grasper and teether.
These can be purchased separately or part of the Grapat Nins, Rings and Coins  set. As children grow these can be used for so much more including posting, sorting and colour matching.
Have a read of this blog post How to play with Grapat Nins, Rings and Coins.
5 Months - Musical Instruments and Roly Poly Pear
Music is great for children as it ignites all areas of their development, helping their body and mind work together.
For this age I'd recommend some of the egg shakers. As children get older you can use them to sing songs, make music and learn about rhythm.
The Roly Poly Pear by Mader is another great one for children starting to reach for toys on tummy time as the bottom is weighted as they hit the pear it bounces back. There is also the Wiggle Ball which does the same as the Roly Pear but also makes a noise when you shake it so it's a great option!
6 Months - Grapat Adult Nins
Grapat Adult Nins are like giant Nins. They were my girls favourite teethers and not at all a choking hazard due to their large size. As children grow older their will enjoy them in small world play in conjunction with the other sizes of regular Nins and Baby Nins representing the different members of their family.
7 Months - Papoose Felt Balls
Papoose felt balls are nice and soft and are perfect for young children to practice rolling and throwing. They are bright and colourful which will engage babies and encourage them to reach during tummy time too! We still use ours inside on rainy days!
8 Months - Grimm's vehicles
What child doesn't love cars? You'll find that they enjoy pushing them along the floor and as they begin to crawl they will push them and chase after them. They are another timeless toy that children will enjoy for many, many years to come!
Also read the full blog on the Grimm's vehicle comparisons here.
9 Months - Grimm's stacking bowls 
Stacking bowls are great for young children as they can explore the different sizes, stack them high or nest them inside each other.
They come in a variety of colours and pair well with the Grimm's Rainbow Balls for experimenting with sizes.
As your child become older they can be used for dry sensory play such as Rainbow rice for scooping and pouring or in home corner for cooking.
Photo by @wild.and.play
10 Months - Grapat Cups with Lids
Grapat cups with lids are a wonderful addition to hiding games and are well loved by babies that love to open and close.
The Grimm's friends fit perfectly inside the Russian dolls as do the Grapat Nins (which are in the Nins, Rings and Coins set that I talked about above).
At this age children may also start to enjoy posting which you can also use your Grapat coins and rings for (mentioned above). By simply cutting a whole in the top of a formula tin or box children can post them inside and retrieve them learning about cause and effect!
Photo by @ourdiyday
11 Months - Grimm's 7 Friends in bowls or Grapat Mates for Nins
The two above sets are similar. If you already have the Grapat Nins, Rings and Coins I suggest adding the Mates which are like little cups. Children will enjoy balancing them on top and will begin learning to match the colours over the coming months.
The Grimm's 7 Friends in bowls is a good option if you don't already have the other set as it comes with bowls and friends to match.
12 Months - Grimm's Building Blocks
As children approach one I suggest reading my other blog First Birthday Gift ideas but blocks are also great for children of this age and investing in a quality set now that will be loved for many years is a great idea.
My recommendation for children this age would be very simple blocks with lots of cubes and rectangular prisms due to their simple shaped blocks. This is ideal for children to learn stacking before introducing too many shapes. 
This Natural Block Puzzle is stunning and simple perfect for a young baby just learning to stack and exploring blocks. This Rainbow Stepped Block Set is lovely if you'd prefer bright colours. It's a little larger but still simple shapes for little ones that are learning. For bonus points both of these sets are lovingly handmade in Australia from sustainable wood and finished with non-toxic stains and oils.
Thanks so much for reading and please let me know if you have any questions :)
** Please also note that the age recommendations on the toys may be above the age they are recommended as if child is under recommended age it should be used under parental/carer supervision.