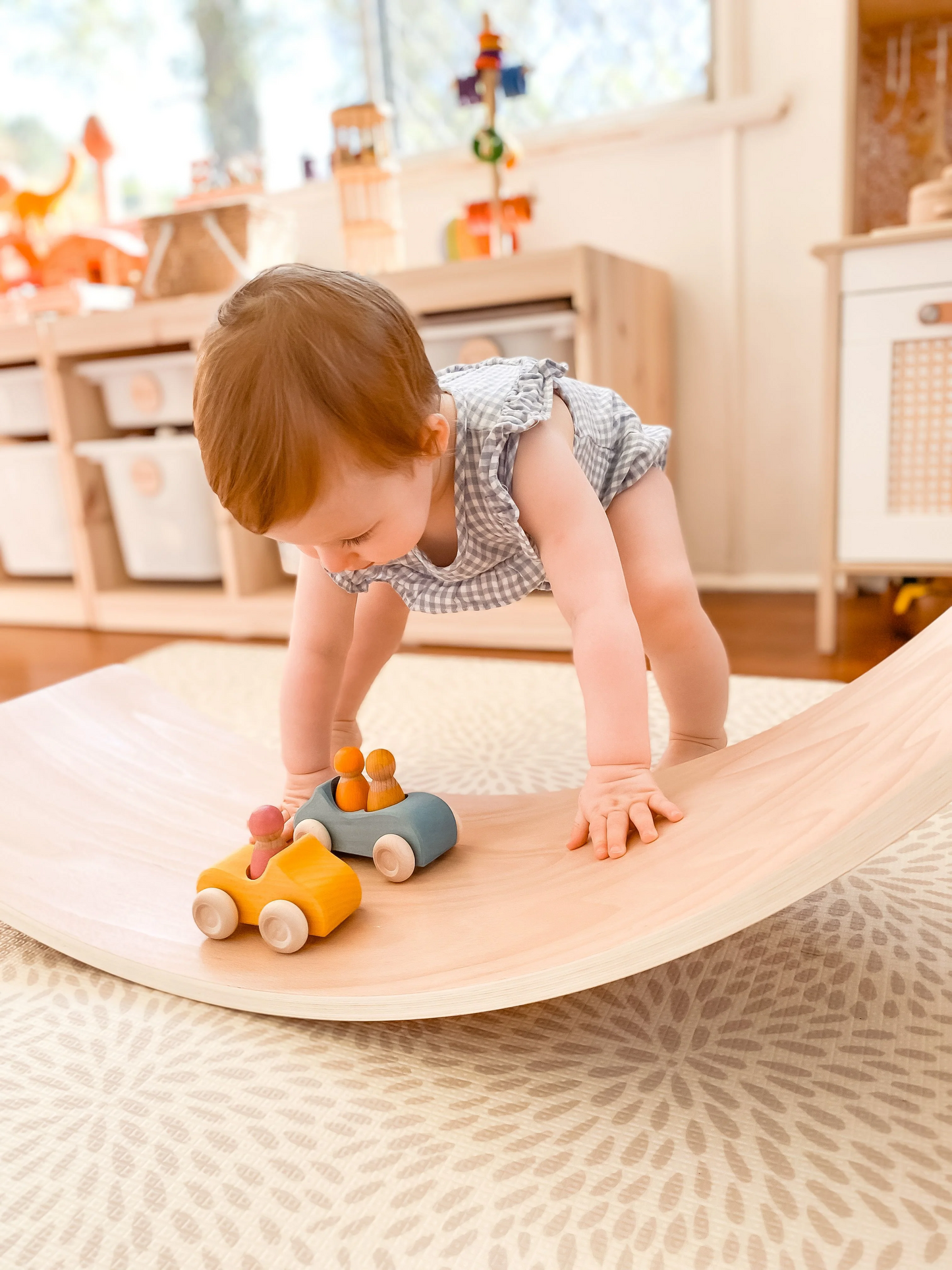 This is one of our frequently asked questions and I'm sure that's becasue we as parents, grandparents, friends and carers all want the absolute best for our little ones!
Open ended toys are perfect because they can be passed down for generations and used in so many ways as children grow from babies through to big kids! We are still using some of these resources and my eldest turned 7 this year.
Depending on your budget and relationship to different loved ones in your life below I have listed a few different price points with our favouties in each catergory.
You can also watch this video for some of our Best Sellers or also shop by these links on the website; 1-2 Years and 1st Birthday Gifts.
Under $30
Egg Chalk
Egg chalk is a great resource for little ones as the egg fits perfectly in their hands. They will enjoy beginning to make marks with it and you could also offer them a paint brush and water pot to wash it off or paint with too.
Boon Bath Toys
The Boon bath toys are great little sets available separately for under $20 each as the Cogs, Pipes and Tubes or all together in the Bath Toy Bundle for . These can be stuck onto the side of the bath (or shower) and you could also use them in water play outdoors too.
Board Books
It's hard to pick just a few of our favourites when it comes to board books for babies! I adore the Sing Along Series of many favourite songs that are interactive with moving parts and also the That's Not My series for touch and feel.
Other classics include:
Brown Bear
Dear Zoo
Noisy Farm
Where is the Green Sheep
The Very Busy Spider
And so many more... Shop all Board Books here.
Playsilks
Available as regular and mini size playsilks are great for peek-a-boo, posting into a tissue boxes or a bottle to pull out, using as a dolls blanket and also dancing!
There are many different colours to choose from in the range and they are also.
Finger Puppets
Finger puppets are available as individuals or also as part of many different sets including popular nursery rhymes or stories and collections of animals. one of my favourites is the Incy Wincy Spider set.
You can view all the different sets here.
Dimpl Stack
We love the Dimpl Stack for its many different uses! It can be stacked up high, nested inside itself, popped back and forth and used in the bath. The largest cup also has holes for the water to pour through.
Felt Balls
Felt balls are perfect for safe throwing and catching both indoors and out as they are nice and soft made from felt! They are available as a 2 pack or as a single. 
$30 to $50
Pop Up Toy
The Pop Up Toy is a favourite as little ones love to pop the pieces out and chase them around the floor. As they get older too they can colour sort them back inside. It truly is alot of fun!
Whirly Squigz
Whirly Squigz can be stuck to any smooth, flat surface - like a bathtub, a tabletop, high chair tray or a window. Simply give them a spin, and... WHOOSH! Around and around they go, faster than the eye can see! 
Grimm's Convertible Cars and Small Blue Truck
The Grimm's convertibles are available with as a single or double. They are perfect for transporting around the Nins and as children grow they will be well loved in small world play. The Grimm's Small Red Truck is also fantastic for loading up with people or loose parts and transporting around.
Chunky Puzzle
I love these Chunky Puzzles by Janod as all the pieces can also stand up and be used in small world play as children outgrow the simple puzzle. They are available in Farm, Dinosaur, Marine and Zoo. 
Another favourite for shapes is also the Plan Toys Shape Matching Puzzle.
Inny Bin
With the Inny Bin comes 6 chunky shape blocks different textures.
Children can push the shapes as well as anything else they find around the house through the elastic bands of the cube.
SpinAgain
Another favourite from Fat Brain Toys is the SpinAgain! Children can drop the discs onto the threaded corkscrew pole and watch as they spin fast and smooth to settle onto the base. You can choose to set the base as either wobbly or solid.
Shape and Sound Puzzle
The Shape and Sound Puzzle incorperates many different elements for children developing their sight, sound and touch. It has 6 Shapes that do different things such as rattle, horn, mirror, bell, kaleidoscope and ratchet sound. They all colour match with their place on the puzzle board and can be played with indiviually or stacked up together exploring all the different things they do.
6 Wooden Balls
The Grimm's balls are available in two colours Rainbow or Pastel. They are well loved in conjunction with the stacking bowls, balancing on cups and just generally for rolling around the floor!
$50 to $100
Totli Box
The Totli Box includes everything all in one: from posting to sorting to imaginative play. Whilst playing children will explore object permanence, play peekaboo, and discover how objects work together with three sides designed for posting, pushing, and pulling.
The handy door lets them see everything they place inside while keeping all the materials neatly stored within the box! 
Stacking Bowls
Grimm's stacking bowls are great for young children as they can explore the different sizes. Stack them high or nest them inside each other. They come in a variety of colours and pair well with the Grimm's Rainbow Balls for experimenting with sizes. As your child grows they can be used for dry sensory play such as Rainbow rice for scooping and pouring or in home corner for cooking.
Grapat Nins Rings and Coins or Seasons
We love the Grapat Nins Rings and Coins and Seasons sets because they are so versatile and can be used in a variety of ways for children of different ages and stages.
The most simple ways to use it are colour matching, sorting, stacking and threading but there are SO many more ways to play which you can read all about on this blog.
Woodpecker Game
This Woodpecker Game is great for children that love to bang. It comes with a hammer and four coloured balls to push through the base. This is great for building fine motor skills, colour recognition and learning cause and effect. I love that it has a ramp built inside too so the balls roll straight out and don't get stuck inside!
Dolls
Miniland Dolls are great if your child is starting to show an interest in caring for others! It was just before our daughter turned one that she started to enjoy cuddling and patting her doll. The 21cm and 32cm Miniland doll are the perfect size to cuddle and carry around the house. I also love the soft doll in carry cot by Bonikka.
Grimm's Mosaic Blocks
The Grimm's Mosaic Block sets are available in Rainbow and Pastel. They are great for beginner builders as they are all the one simple size of cube for stacking up high and knocking down! Later down the track these can be used in conjunction with other Grimm's block sets. 
Over $100
Larger Block Set
Blocks are a great investment for babies as they will begin to stack with the simple shapes and also use them for so much more as their skills develop and also their imagination! If you budget allows our favourite would have to be the Large Stepped Pyramid. If you're after a smaller set I do also love the Basic Building Set 2 and Giant Building Blocks for their great mix of shapes!
View all our Block Sets here.
Wobbel Board
We have owned our Wobbel Board since my youngest was 6 months old and we find everyone that comes over can't resist having a go!
Our Wobbel board is used multiple times a day to rock, jump, climb, slide, crawl under and over and its also good for relaxing with a book.
Have a read of the blog 'How We Wobbel' for many more ideas and examples, the possibilities are truly endless!
I hope this has assisted you in making a decision but if you'd like any extra help please just let us know!